Thank you for choosing to brighten your smile with Phillips & Co Cosmetic Dentistry; we hope you enjoy your Journey over the coming weeks.
Below are a few hints and tips on how to look after yourself and your whitening trays during your Journey.
Just remember, if you have any queries at all get in touch with us and we'll only be too happy to help!
How to use your whitening trays
1. Brush your teeth first, make sure to use the Enlighten Tooth Serum before and during treatment.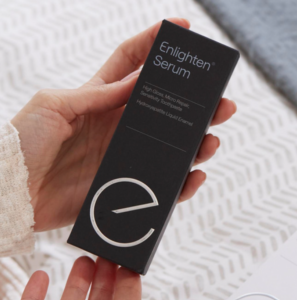 2. Open your home kit and select your trays.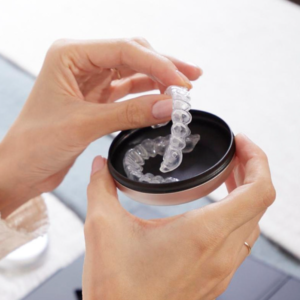 3. Select syringe 1, unscrew the nozzle and attach the applicator tip.

4. Snap the end of the applicator tip but keep it handy to re-seal between uses.
5. Gently place a small bead (the size of a lentil) into each of the small tooth compartments. Do not overfill!
6. Place whitening trays over the teeth and press firmly into place. Gently push on the front surface of each tooth to disperse the gel.
7. Remove any excess gel that may seep out of the edge of the tray with a tissue or soft toothbrush.
8. After you have finished the whitening session, please brush your teeth using the Enlighten Tooth Serum.
9. Clean your whitening trays with cool water and a soft toothbrush.
Using the sensitivity swabs
Should sensitivity occur, please use the enclosed swabs as required. Follow the steps below:
Select a Swab
Snap the Green End and wait for the liquid to flow down to the other side
Rub over upper and lower teeth, especially where sensitivity has been experienced.
Recommended wear times
Week 1 'Condition' – Overnight Wear 10% Carbamide Peroxide Gel
Week 2 'Whitening' – Overnight Wear 16% Carbamide Peroxide Gel
Week 3 'Blast' – One hour per day 6% Hydrogen Peroxide Gel
Precautions and tips
Please do not use whilst pregnant or breastfeeding.
Review allergies against listed ingredients.
Avoid prolonged periods of use if you have a history of hypersensitive teeth.
If you experience excessive, persistent discomfort, stop using immediately and contact your dentist.
Some sensitivity is not unusual, if this occurs take a few days break from the whitening gels and try using a sensitive toothpaste instead of the gels in the trays to settle any symptoms.
Do not store in direct sunlight or heat. Store in cool, dry place. Do not freeze.
Do not use any household products in your trays.
Irritant and risk of eye damage if used incorrectly.
Do not inject the gel.
Do not use if there is a risk of swallowing the whitening tray.
Avoid swallowing gel where possible. Gel can be harmful if swallowed.
Dental restorations will not respond to tooth whitening (existing fillings etc will not change colour).
Do not use tobacco products whilst whitening.
Not to be used or given to people under the age of 18 years old.
Note the expiry date on the outer packaging and the syringes.
BACK TO TREATMENTS