Pre-operative Advice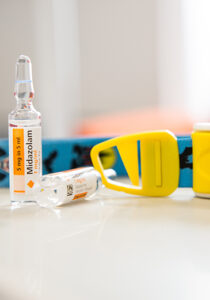 You have been offered treatment under conscious sedation to help you relax. You will have the sedation agent administered through an injection in the back of your hand or crook of your arm
(intravenous sedation). You will not be asleep but you will feel drowsy and sufficiently relaxed for treatment, your mouth or other operation site will be numbed as usual before the treatment commences. During the procedure you will feel peaceful and largely unaware of what is going on, in fact many patients do not remember all or part of their treatment. At the end of the session you will be allowed to recover until you are fit enough to be discharged home with your escort.
It is essential you observe the following instructions, otherwise your sedation appointment may be cancelled.
You MUST NOT eat or drink anything for 2 hours prior to your appointment. Before this you should have a light meal e.g. toast and tea, coffee or juice.
You must be accompanied by a responsible adult who may be asked to remain in the waiting room throughout your appointment, escort you home afterwards and arrange for you to be looked after for 24 hours (they must not also be looking after small children or other dependants during this period).
Your escort should take you home after treatment by private car rather than public transport.
Please note you will usually be observed in the practice for a minimum of 1 hour after the last dose of sedation is administered.
If you are taking medicines they should be taken at the usual times and should be brought with you on the day so that we may know what they contain.
Any illness occurring before the appointment should be reported immediately as this may affect your treatment.
You MUST NOT drive any vehicle, operate machinery or use any domestic appliances for 24 hours after sedation.
You MUST NOT drink alcohol, return to work, make any important decisions or sign any legal documents for 24 hours after sedation.
Please ensure any nail varnish is removed before attending for treatment.
Please ensure minimal facial make-up is worn, ideally none at all if possible.
*Please ask if there is anything you are unsure of or concerned about*
Postoperative Advice for Patients and Chaperones following IV Sedation treatment
It is extremely important that these instructions are followed after the sedation appointment.
The Patient must have a responsible adult with them for 24 hours.
The Patient is NOT to drive a vehicle for 24 hours.
The Patient is NOT to return to work, make appointments or sign legal documents for 24 hours
The Patient is NOT to operate machinery, look after small children or carry out any dangerous tasks requiring concentration for 24 hours.
The Patient is NOT to consume any alcohol or sleeping tablets for 24 hours following sedation as these may interact with the sedative that is still in their system.
Any regular medication should be taken at normal times SUPERVISED by a chaperone
The Patient must NOT take a bath for 24 hours unsupervised.
BACK TO TREATMENTS